Carolyn Andrews, 29, has been sponsored by Pro-Equine since 2015. At the moment Carolyn is aiming at Royal Highland Show Qualifiers, having already gained her second round qualifications for Newcomers 2nd round and Foxhunter 2nd round. She will also be aiming for Foxhunter 2nd round qualification for next year, competing at Blair International Horse Trials, Arena UK and Winter Premier Shows this winter coming.
Carolyn gives us an update and explains which Pro-Equine products she uses and why:
"My main competition horse at the moment is Firado II 7yr gelding (Diarado x Quidam de Revel) I have had him for 2 years now, he is probably one of the best horses I have had the pleasure to own and compete. I have taken him through from British Novice up to the level he is currently competing at which is 1.20. He is a very athletic willing and able horse who loves his job, he also has a great nature and is easy to work with. As we are competing on a regular basis and travelling and stabling at shows the supplements we use are Pro-Equine Ulsa-Soothe, Activgait and Pro-Stamina.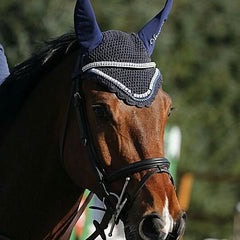 Activgait is a great product for us on the yard. It helps with joint mobility and, because of the activities we do at the level we do, we need a joint supplement that is going to keep them supple and free moving. This supplement does what it says on the label and contains powerful key ingredients which are all natural.
I also use Ulsa-Soothe as I travel a lot during the year and the horses can be stabled away for up to 4 days at a time. I find using this supplement all the time helps the horses cope with the routine changes during our time away. I notice a positive difference in just a few days of using Ulsa-Soothe.
Pro-Stamina is used when we are out competing at shows as it meets the demands during intense work with the concentrated blend of herbal extracts to aid vascular, immune and digestive efficiency. I have noticed a big difference in the first weekend we were competing where he felt more energetic and less tired. It has also helped my horses cope with long road trips.
One of the great things about the Pro-Equine supplements is that they are all natural ingredients with no banned substances, which is so important when picking supplements to give to our horses."
Follow the Pro-Equine Team this summer in our regular blog and Facebook updates!