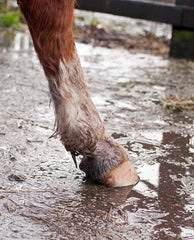 Mud fever can be a challenging problem during the winter months causing so much irritation to the lower leg and sometimes whole legs can be infected in no time at all. Mud fever usually occurs during the wet winter months and is principally caused by the bacterium dermatophilus congolensis. Signs of mud fever are inflammation of the skin, leg swelling, cracked skin, weeping, hair falling out and scabs.When you run your hands down the leg the scabby lumps are easy to feel, these should fall off soon but be careful you don't pick any off that are not ready, ouch! Remember hygiene is so important to reduce cross contamination so grooming tools, boots and hands must be clean.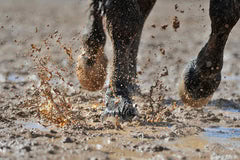 Pro-Equine have two products, Mud Bug Buster and Neem Oil, both of which prevent the occurrence of mud fever and tackle the symptoms of mud fever. Both products contain Neem oil which is antibacterial and waterproof to prevent mud fever taking hold. Neem oil contains vitamin E and many essential amino acids which help moisturise and soothe the skin. Its collagen properties promote healthy, new skin, reduce scar tissue and encourage rapid hair re-growth. Neem also has anti-inflammatory properties to relieve the pain.
Interested to hear your views and experiences on tackling mud fever and anyone who has ever used Neem oil for mud fever.