Pro-Equine's sponsored rider Louisa and her wonderful 'unconventional dressage horse' Arnie have only gone and won their very first Grand Prix test!! We are so delighted for this hard-working pair who have a fabulous partnership. And all the better that Arnie is "powered by Pro-Equine"!
Louisa tells us all about their 'grand' day at Grand Prix:
"WOW, WOW, WOW! That's all I can say about my most amazing horse! Two weeks ago Arnie and I achieved our ultimate dream – we competed in our very first GRAND PRIX!! I decided while riding at home that Arnie found the Grand Prix piaffe/passage movements easier than in the Inter 2 test, so we thought why not have a go?! Off we went to Bicton Arena. We did the Inter 1 as a warm-up only to get our best ever score at this level – 69.87%! We were super-chuffed just with that but then it was the Grand Prix. Arnie warmed up really well, I didn't push the piaffe/passage in the warm-up so I could save him for the test. He was just amazing! Although the movements all come up really quickly he did everything I asked. A slight miscommunication in our second canter pirouette on the centre line meant we walked into it so got a 4 for that movement. But I am totally delighted with him and how he coped with the test. Plus, we only went and won the class with 64.1%, beating some who have been at this level for some time!!! There is so much room for improvement as well that I just cannot wait to have a go at our next one!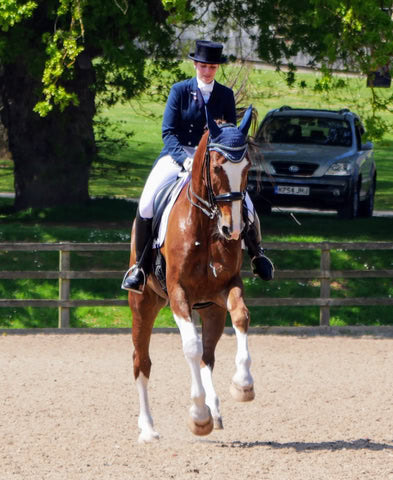 I am so sure having Arnie on Pro-Equine's Activgait is hugely helping him. Arnie has been on Pro-Equine's Activgait for a few months now and this is helping him so much in keeping his body feeling great and supple. Dressage at this level is very demanding and giving him a dose of Activgait everyday means his body copes so much better. Arnie also gets a dose of Colikare daily as we have had the recent issues of 'grass brain!' Arnie doesn't tolerate sugar very well and, since we have had all this lush spring grass coming through, it makes Arnie very gassy, uncomfortable and difficult to catch! 'Grass brain' makes him very stupid!! Arnie then finds working difficult as his tummy is so unsettled but giving him some Colikare every evening is making his stomach so much more settled and he's been much happier to ride as well. This is also great when we are away competing as sometimes, when he gets tense and nervous, it can unsettle his stomach so Colikare also helps keep everything working as it should."
Next stop for Arnie and Louisa is Somerford Premier League in Cheshire.