Arnie the Unconventional Dressage Horse and his rider Louisa had a bit of a break leading up to Christmas but, even with no electricity so only being able to lunge by torchlight(!), they were quickly back in training in readiness for the Addington Manor High Profile in mid-January. Louisa takes up the story:
"We headed to Addington the day before the competition and arrived just as it was getting dark. Even so we had a quick walk around the venue as Arnie likes to see where he is! Arnie is very lucky to have been on Pro-Equine's Activgait and he felt great warming up. He is 13 this year and still has a lovely spring in his step. Our Inter1 test was amazing except for a silly blip coming out of the canter pirouette however it was still enough for 65.2% and we won our section and came 9th overall! Then it was time for the Inter2. Arnie was a star and he tried his best. We got all our changes, but a mix up coming out of the second piaffe meant we cantered a little where we should have been in passage but we still completed it and we didn't come last or disgrace ourselves! We even managed 2nd in our second test and 15th overall!! The following day, I gave Arnie a good warm up thinking he may be feeling stiff but thanks to a good dose of Activgait Arnie felt great and did a super PSG test for 64.6%. He was such a superstar all weekend and thanks to the support of Pro-Equine – he felt super supple and elastic in his work."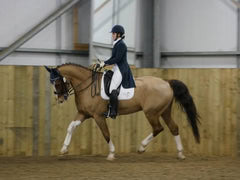 Louisa and Arnie had an amazing 2017 and have progressed massively. In the last six months they have gone from not being able to do one-time tempi changes or piaffe to entering their first competitive Inter2 at a high profile show! Pro-Equine are delighted to be supporting them and hope to be there to witness some of their successes in 2018! Watch this space for more news on Louisa and Arnie the Unconventional Dressage Horse.